Stephanie Williams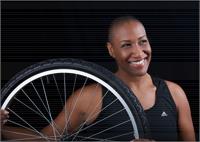 Get ready to experience a fusion of dancing, love for music and fitness together in a perfect package. For Stephanie, spinning at "Rocket Cycle" isn't just about the bike; it's about being in a place where people, great energy, machines and pumping music collide! If you are being taken to the limit in an insane sprint, losing yourself in a jog or digging down into a heavy hill, you will ride from deep inside and be sure to leave her class inspired and ENERGIZED!

Guilty Pleasure: BAKED GOODS!!
Favourite Colour: BLACK! (More of a shade than a colour, no?)
Favourite Movie: Purple Rain!
Stephanie Williams is currently not instructing any classes.